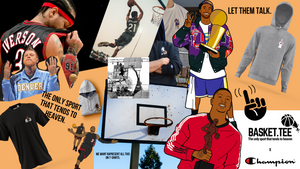 WEARS THE NOSTALGIA OF THE MAGICAL BASKETBALL MOMENTS OF THE PAST.
THANKS TO OUR SUPPLIER WE HAD THE OPPORTUNITY TO CREATE A LIMITED EDITION COLLECTION OF HOODIES WITH CHAMPION™.
THE CHAMPION™ BRAND HAS ALWAYS BEEN A SYMBOL OF THE 90'S NBA.
A COLLECTION CREATED TO REMEMBER THE CHAMPIONS AND THE BEST MOMENTS IN THE HISTORY OF BASKETBALL.
BASKET.TEE™ X CHAMPION™
Our t-shirts and hoodies are PRE-SHRUNKED in order to preserve print and cotton. All of our inks are waterbased and ECO-FRIENDLY.
If you notice some discoloration or white residue, DON'T WORRY!
This is due to the eco-friendly treatment done to our products and the will WASH OFF after their FIRST WASH CYCLE!
OUR VISION:
WE WANT TO SHOW OUR LOVE FOR THE GAME, REPRESENTING THE BEST PLAYERS AND ICONIC MOMENTS FROM THE 80'S IN THE NBA
WHY?